A Life Jacket or Personal Floatation Device (PFD) will be the most important safety
item you will buy.
REMEMBER "it is your life on the line"
The Fact is that it is becoming mandatory to be wearing a lifejacket on a vessel while underway. This requires a great change in our attitude to lifejackets, or to use the latest term, Personal Flotation Devices.
The rash of drowning each summer from boating accidents has finally triggered the Coronial Service into pushing the Government to address the situation. "I can hear boaties all over throwing their arms in horror at the thought of having to wear a PFD all the time. We all had this same attitude when the wearing of seatbelts in motor cars was made compulsory "there was no way I was going to buckle up every time I hopped into the car" Well look at us now, it is just second nature and no bid deal.
Commander James R Montgomery, Director of the Eighth Coast Guard District Military US compared wearing a lifejacket to wearing a seatbelt.
PFD's are going to become a mandatory part of our boating lives. People rarely drown if they fall in the water whilst wearing a lifejacket.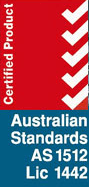 Soon everyone who steps onto a boat will step into a PFD, it will be a state of mind that we will get used to.
Just like the hat to keep the sun off, the dark glasses to reduce the glare, the sunblock to stop you burning, the drink to slack your thirst, you will fit into a PFD every time you get underway.
Safety on the water is the number one issue don't compromise your family or your crew buy them a top quality PFD.
A guide to the Marine Regulations and how they affect you.

Marine Safety Victoria (MSV) has reviewed the need for recreational boaters to wear Personal Flotation Devices (PFDs) based on the recommendations by the Victorian State Coroner and has adopted the National Standard for Recreational Boating Safety Equipment.

This brochure contains a summary of the key changes, which include:

• The requirement for wearing PFDs on Victorian waters

• Safety equipment to be carried on recreational vessels

• Changes to Emergency Position Indicating Radio Beacons (EPIRBs).



Has your Lifejacket / Personal Floatation Device had its annual service check?
Click here for more info
150N Air-Only Lifejackets

Crewsaver were the first company to develop this
style of Lifejacket and have invested heavily in its continual improvement

---

150N Air Foam Lifejackets

Air Foam Lifejackets contain closed cell foam to give the permanent buoyancy.

---

100N Foam Lifejackets

Permanent buoyancy Lifejackets are CE Approved and suitable for swimmers and non-swimmers in moderate conditions.

---

50N Buoyancy
Aid Range

Buoyancy Aids are an important piece of equipment for all active watersports activities.

---

Wet Weather Gear
For top performance you need gear which provides the best protection against the conditions in which you expect to sail.

---